Welcome to Harlem Walks.com
Specialized walking tours of various neighborhoods within Harlem and beyond
Led by Leigh Hallingby.
Leigh is licensed by the City of New York to be a tour guide who conducts both actual and virtual walking tours. Leigh is fully vaccinated against Covid-19.
Leigh has long been passionate about exploring New York City's vast array of neighborhoods on foot. She has gone on hundreds of guided walking tours and continues to do so almost every week. There is always an unfamiliar street or neighborhood to see and lots more to learn!
After a long and rewarding career as a non-profit librarian, Leigh now loves being a tour guide. She is thrilled to have the opportunity to share her enthusiasm for exploring NYC with visitors to the city from all over the world.
As a former librarian, Leigh also loves doing research about the neighborhoods to which she takes visitors and then sharing what she has discovered with the visitors.
Leigh holds a Bachelor's degree in political science from Wellesley College in Wellesley, Massachusetts. She has a Master's degree in Social Work (MSW) from the University of Pennsylvania in Philadelphia, PA. She also has Master's degree in Library Service (MLS) from Columbia University in New York City.
In 2017 Leigh was inducted into the Special Libraries Association Hall of Fame.
She belongs to and is insured by the Guides Association of New York (GANYC), one of the oldest and most active tour guide associations in the United States.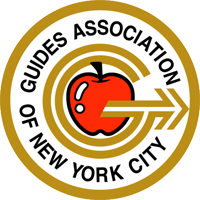 Leigh was a very lovely lady with a passion for architecture and the arts, which was transferred to us through our tour.